This April, we are heading to the mystical and magical land of Nepal as we discover its rich and ancient heritage while rediscovering a newer version of ourselves!
In our 10-day retreat, we immerse ourselves in Yoga, Meditation, and Self-reflection along with a mix of adventure, hiking and cultural exploration along the beautiful Himalayan range from the 19th-28th of April 2023!
Beware, this is not a typical touristic trip instead one which is bound to throw you off your comfort zone and show a newer version of You with a richer perspective on life!
Get your backpacks ready as we explore meditation, Yoga, visit Buddhist monasteries, hike through the mountains led by Sherpas, visit scenic villages and eat local yummy & healthy food, exploring the depths of Nepal's beauty while diving into the mysteries of our minds :)!
If you are someone who loves adventure and is a seeker of new experiences, culture and wisdom, then this 10-day backpacking retreat is for you!
What does the trip Include:
Yoga, Pranayama (breath work) & Meditation for the Mind, body & soul

A 4-day Hike in Nepal's Scenic Mountains

Immersing in Nepal's rich spiritual, cultural and ancient heritage

Learning the Art and Science of Yoga and Meditation

Visiting ancient Monasteries and Temples

Spending time with the locals and relishing Nepalese cuisine & culture

Connecting within and without through Mindful sessions

Learning about Meditation through the perspective of Buddhism & Hinduism

Ultimately, connecting with our inner being through our immersive & adventurous exploration
Your Hosts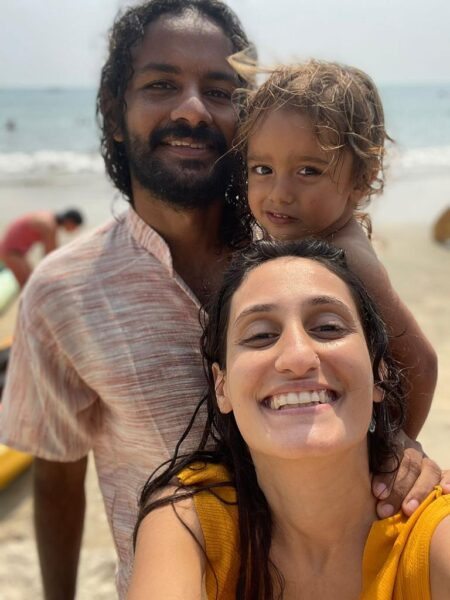 We, Saja and Arjun are avid travellers, backpackers, and Yoga teachers with a love for adventure and exploration. In our retreats, we share our passion for Yoga, meditation, adventure, music, history and culture with the people we travel with while learning from the experiences and perspectives of our fellow travellers.
The intention behind our retreats is to help find new ways of connecting with our inner selves while exploring new and unchartered territories in the outer world.
We invite you to join us on this adventurous journey to experience together moments of bliss and inner growth while we expand our hearts and minds and elevate our perspective on life.
A short video about what to expect in our upcoming retreat! Includes clips from Saja's first retreat in Nepal back in 2016 🙂
Itinerary
19th of April 2023, Wed – Day 01:
Arrival at Kathmandu airport and transfer to the Hotel

Opening Circle with a relaxing meditation

Welcome Dinner and getting to know each other
Meals Included: Dinner
20th of April 2023, Thursday – Day 02:
Meals Included: Breakfast
21st of April 2023, Friday – Day 03:
Bus journey through scenic mountains and rivers from Kathmandu to Pokhara (7 hrs bus ride including stops for lunch, etc)

Conversations on Meditation and Mindfulness during the bus journey

Stay overnight at Pokhara

Stretch and unwind with a gentle Yoga
Meals Included: Breakfast
22nd April 2023, Saturday – Day 04:
Sunrise Energizing long Kriyas (Deep breathwork)

Head from Pokhara to Nayapul to start the trek from Ghandruk (1.5hrs Bus journey & 4 hours trek)

Evening Tratak Meditation

Spend overnight at Lodge
Meals included: Breakfast, Lunch, Dinner
23rd April 2023, Sunday – Day 05:
Morning Tibetan Yoga flow and Pranayama (Yogic Breathwork)

Trek from Gandruk to Tolka, about 6 hrs trek

Evening Yoga nidra
Meals included: Breakfast, Lunch, Dinner
24th April 2023, Monday – Day 06:
Start the day with an energising Yoga and Breathwork and Meditation session

Trek from Tolka to Australian Camp for about 5-6 hrs

Mindful session/activity during the hike
Meals included: Breakfast, Lunch, Dinner
25th April 2023, Tuesday – Day 07:
Trek down to Phedi 2-3hrs via Dhampush village

Boating over Lake 

Evening Meditation and Relaxation
Meals Included: Breakfast, Lunch
26th April 2023, Wednesday – Day 08:
Start the day with Yoga & Breathwork

Visit Peace Stupa Pagoda and Shiva statue

Explore Meditation & Consciousness from the perspective of Hinduism and Buddhism
Meals included: Breakfast
27th April 2023, Thursday – Day 09:
Fly back from Pokhara to Kathmandu

Visit shopping centres in Thamel

Relax and take it easy!

Closing Circle with Dinner and sharing reflections
Meals included: Breakfast, Dinner
28th April 2023, Friday – Day 10:
Meals included: Breakfast
Inclusions:
Accommodation in Twin Sharing rooms at all places including the trek

Arrival and departure transportation

Transportation to different locations included in the retreat including internal flights

All meals mentioned in the itinerary

Entrance fees for places mentioned in the itinerary

All activities included in the itinerary including yoga, meditation, excursions

ACAP and trekking permit fee
Exclusions:
Visa Fee

Flight Tickets for arriving and Departing from respective countries

Personal shopping or massages during the retreat

Travel Insurance

Drinks and extra food ordered that are not part of the Itinerary

Porters to help during the trek

Any other expenses which are not mentioned in the Inclusions
Some Points to Keep in Mind:
This is a backpacker retreat which will include lots of adventure and hiking.
The accommodation during the trek will be neat and comfortable but don't expect it to be luxurious! The view of the majestic Himalayan mountains will satiate your senses that you won't need anything else.
Please carry a backpack and travel light as there will be considerate amount of travelling. Also, its a nice way to learn how to detach from our belongings 🙂
Any prior experience of Yoga or Meditation is not required but it is essential that you come with an open heart and mind to explore and learn new perspectives.
We will be relishing local food and staying at different places, so if you're prone to falling ill easily, please carry your medication along. We promise that your immunity will be boosted by all the fresh air and holistic mind-body-soul practices.
Please carry your hiking shoes and your yoga mat if you have one.
Pricing & Terms
Lebanese & International Travellers: The price for the retreat including accommodation, transportation and meals (mentioned in the itinerary) is 1385$ per person
Kindly note that all the rooms will be twin sharing. If you'd like to have a single room throughout the retreat, it'll be an extra 285$.
For confirming your registration, a deposit of at-least 50% would be required and the rest to be paid before 5th of April.
If you're paying through Paypal, there would be an additional fee of 8% of the total to cover the transaction and conversion fee. If you're paying using Mastercard or Visa on the website, there will be an extra 4% to cover the transaction and conversion costs. If you'd like to minimise transaction fees, we suggest transferring through OMT/Western Union and paying the nominal transaction fee (around 10-20$) at your end.
Paypal payments can be made directly to arjun@sarveda.com whereas Debit card/Credit card payments can be done on our website securely using our Stripe payment gateway. If you'd like to pay through OMT/Western Union, do reach out to us for all the required details.
If you're travelling from Beirut, our travel partners, Satguru Travels can arrange you to and fro flight tickets. Grab your tickets as soon as possible before the prices increase!
Travellers from India: The price for the retreat including accommodation, transportation and meals (mentioned in the itinerary) is 95,000 INR per person
Cancellation
If you decide to cancel your trip after paying the advance and before the second instalment, 50% of the amount would be deducted as the cancellation fee.
If you decide to cancel your trip after paying the whole amount or after 20th of Jan, 75% of the amount would be deducted as the cancellation fee.
For Registration or More Information
WhatsApp us at :+961 70 803 875 (Lebanese Travellers) / +91 8861568960 (India & other International travellers)
or email us at care@sarveda.com